HERMANN-Spielwaren GmbH
D-96450 Coburg-Cortendorf / Germany
founded 1920 in Sonneberg / Thuringia
EMail Diese Seite in Deutsch !
The HERMANN-Coburg Painting Room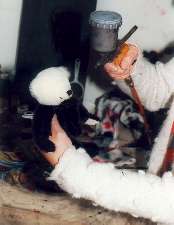 >The Painting Room is one of the most traditional working places of the HERMANN-Coburg Teddy Bear fabrication, even if this working place is not any more used today as frequently as in former times.
All along there existed a little room, where the soft animals like monkeys, tigers, cats or lions and also some of the Teddy Bears were painted over with a technique, which is a kind of the today's called airbrushing. Still today the knowledge about this old original technique is in the possession of the HERMANN-Coburg company, and still today the old original spray guns with their fine jets are used.
You must have the feeling of an artist, when you want to awaken plush animals alive with your spray gun. In former times, when the toy makers were still a very poor folk, there existed in each company many men and women, who were true artists, but who had to work in the same in the factories like all others, because no other work existed for them to earn their money. Therefore many of the old soft animals, which were painted with fine lines and shadings by these old talented workers, are real artworks.
---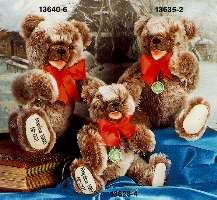 >It is very difficult to paint still today soft animals and Teddy Bears in the same perfect kind as in former times. Only the most skilled women with the best feeling are able to do this artistic work. Some examples of the today's HERMANN-Coburg Teddy Bear collection are the Replicas of the old HERMANN Baby Bears or the old HERMANN Flexible Bear. But there are also some of the New Generation Bears like the red Devil Bear, the little Chimney Sweep Bear or the creepy Count Dracula Bear.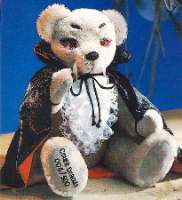 The Count Dracula is exclusive available at: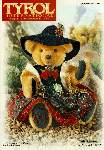 TYROL International - House of Tyrol
P.O. Box 909, 66 East Kylie Street
Cleveland, GA 30528 - USA
Phone 1-800-241-5404 FAX 1-706-865-7794
Email Tyrol@stc.net
Tyrol-item-No: 14143 US-$ 199,-

Your Email to Tyrol International - They are happy to send you a catalogue
---

Our little sightseeing tour through the HERMANN-Coburg workrooms comes now to its end. In the time during your visit our little Teddy Bears have grown up and can now be released out of the responsibility of their obstetricians. To say good bye to all the Hundreds of HERMANN-Coburg Bears produced weekly we will stop for one last time in the HERMANN-Coburg Shippment Room.
---







Copyright © 1996, HERMANN-Spielwaren GmbH, Im Grund 9-11, D-96450 Coburg / Germany
Phone +49-9561-8590-0 FAX +49-9561-8590-30 Email info@hermann.de
URL: http://www.hermann.de