HERMANN-Spielwaren GmbH
D-96450 Coburg-Cortendorf / Germany
founded 1920 in Sonneberg / Thuringia
EMail Diese Seite in Deutsch !
The HERMANN-Coburg Shippment Room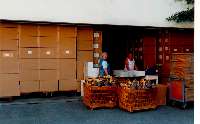 Brushed and combed and each fitted out with its green HERMANN-Coburg hang tag and its own individual certification, the Teddy Bears arrive at their last station in the HERMANN-Coburg factory downstairs in the Shippment Room. Here all the orders from around the globe are collected. Outside the door the drivers of the big trucks are already waiting to take over our little protégés. With big curious eyes and their little innocent soul our Teddy Bears are now looking forward impatiently to be shipped to their new home.
The time has come for us to say good bye to our little fellows. But you, who have accompanied us on our little sightseeing tour through the HERMANN-Coburg workrooms, you will meet them again, perhaps in Tokyo or Singapore, in New York, Johannesburg or Sydney or somewhere else in the world.
---



And whenever you see a Teddy Bear with the green HERMANN-Coburg hang tag and the symbolic picture of the "Bear with the Running Dog", remember its old home company to it and tell our little darlings something about their roots here in Germany, and that you have seen, how they were born.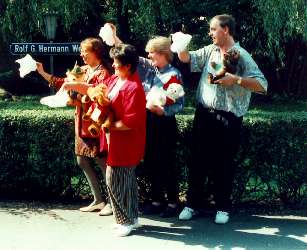 Farewell - Good Bye - Auf Wiedersehen


Back to the HERMANN Homepage
---







Copyright © 1996, HERMANN-Spielwaren GmbH, Im Grund 9-11, D-96450 Coburg / Germany
Phone +49-9561-8590-0 FAX +49-9561-8590-30 Email info@hermann.de
URL: http://www.hermann.de