HERMANN-Spielwaren GmbH


D-96450 Coburg-Cortendorf / Germany


Rede von Dr. Ulla Hermann
bei der TOBY AWARD Verleihung 1998
beim Disney Teddy Bear and Doll Convention
in Orlando, FL - USA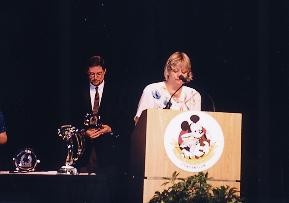 Ulla Hermann in Orlando, FL
I want to say thank you to all of you, who like our Teddy Bears and who have voted for our little friend "Prof. Higgins".
Thank you to Betsy Murray, and the Teddy Bear and friends magazin for the organization of this great and international Teddy Bear of the Year Award and for the invitation to this wonderful early morning TOBY-breakfast.
To win the TOBY Award here in the United States is a great honour for me and for our company. I think it is one of the most wonderful days in the 80 years old history of the old Max Hermann and HERMANN-Coburg Teddy Bears with the green Hermann logo. I want to say thank you to our distributer Mr. and Mrs. Hobus of Columbus International for all their help to make our Teddy Bears known here in America. And last but not least I want to take the opportunity in this wonderful hour to say thank you to my grandfather Max Hermann and my father Rolf Hermann, who both have handed down to me and my brother all their knowledge about making good Teddy Bears. I am sure they are now looking down from the heaven and they will smile.
Thank you.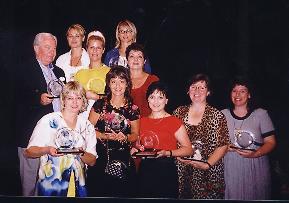 TOBY Award Gewinner oder Vertreter 1998
Ulla Hermann untere Reihe links




Copyright © 1998
HERMANN-Spielwaren GmbH, Im Grund 9-11, D-96450 Coburg / Germany
Phone +49-9561-8590-0 FAX +49-9561-8590-30 Email info@hermann.de
URL: http://www.hermann.de