HERMANN-Coburg Guest-Page
REINHOLD LESCH GMBH

D-96472 Rödental /Germany - Oeslauer Straße 121-123
Phone +49-9563-7221-0 FAX +49-9563-7221-22
Email: lesch_de@t-online.de Diese Seite in Deutsch !
Glaseyes for the HERMANN-Coburg Teddy Bears
Welcome to Reinhold Lesch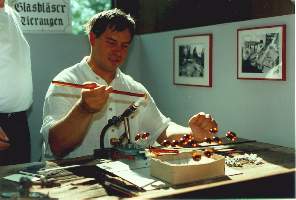 While with the running of the years long before our today's time more and more toy companies were established in the region around the town Sonneberg, which grew up to the world most famous toy area, also more and more suppliers of doll and Teddy Bear accessories founded their little workshops all around like the Eye Makers or the Voice Makers.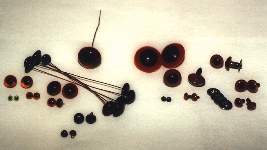 The company of Reinhold Lesch belongs to one of the most well-known German Eyes Maker companies since 3 generations located in Rödental between Sonneberg and Coburg. Its range of Teddy Bear eyes involves security eyes in the same like draw in eyes and acrylic eyes in the same like old traditional glass eyes. They are made in many different sizes from 3 mm to 35 mm and in many different colours.
This picture shows Martin-J. Hermann making a glass eye under the supervision of Reinhold Lesch.
---







All rights reserved -Copyright © 1996, HERMANN - Spielwaren GmbH, Im Grund 9-11, D-96450 Coburg/Germany
Phone +49-9561-8590-0 FAX +49-9561-8590-30 EMail: info@hermann.de
URL: http://www.hermann.de