HERMANN-Spielwaren GmbH
D-96450 Coburg-Cortendorf / Germany
founded 1920 in Sonneberg / Thuringia
EMail Diese Seite in Deutsch !
Some Pre Information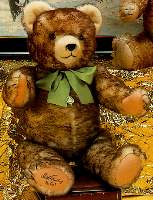 Still today the most of the HERMANN-Coburg Teddy Bears are made in the same kind like the old Max Hermann Teddy Bears were made in Sonneberg long before our today's time.
They are made of valuable mohair fabric, primary stuffed with excelsior and most of them have a deep growler voice.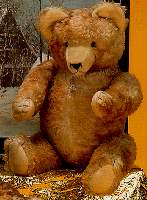 It needs about 2 1/2 - 3 1/2 hours working time, till a HERMANN-Coburg Teddy Bear is finished for shipping around the globe. Many skilled men and women, some of them belong more than 20 or 30 years to the HERMANN staff, are busily working around the year for the enjoyment of all the Teddy Bear friends in the world.
Every HERMANN-Coburg Teddy Bear is handmade in Germany, and each single Teddy Bear has its own individual charm. Every Teddy Bear bears and takes with it a little piece of the hearts of the workers, because
it is the hand, which leads to the heart .........
The two pictures show our Teddy Bear "Old MAX " - 31 1/2 inch. On the right side the Replica on the left side the original of 1950, personally produced by Max Hermann for his wife Hilde.

Next page
---







Copyright © 1996, HERMANN-Spielwaren GmbH, Im Grund 9-11, D-96450 Coburg / Germany
Phone +49-9561-8590-0 FAX +49-9561-8590-30 Email info@hermann.de
URL: http://www.hermann.de