HERMANN-Spielwaren GmbH
D-96450 Coburg-Cortendorf / Germany
founded 1920 in Sonneberg / Thuringia
EMail Diese Seite in Deutsch !
The old original Growler Voice
It is a very old tradition, that German Teddy Bears growls. So it is also the work of the Excelsiorstuffers, to put the deep growler voice into the Bear's body. Still today HERMANN-Coburg uses the same growler voices as the old Max Hermann Teddy Bears had them.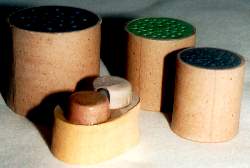 The old traditional growler voices works on the principle of a bellows, which comes into force by a moving stone falling up and down. The growler voice itself is an acoustic box. For the bigger Teddy Bears you have to use a growler voice with a bigger acoustic box than for the smaller Bears. Therefore the bigger Teddy Bears will have a deeper voice than the smaller. But it is not possible to construct the acoustic boxes too small, otherwise you will not hear the voice any more. Therefore the Teddy Bear must have a size of more than 11 1/2 inches, when the Bear shall growl, otherwise the body of the Bear is to small to put a growler voice inside. Also in former times the critical size for a Growler Bear was about 11 1/2 inches.
It is also necessary, to place the growler voice in the correct position into the body of the Teddy Bear, horizontally lying with the acoustic holes ahead. Only then, the Teddy Bear will growl when you turn its head down and back again.The growler voices are made by old voice maker families living since generations in the old toy area around Sonneberg and Coburg. Still today HERMANN-Coburg gets its growler voices from the same voice maker company as in former times. So still today the HERMANN-Coburg Teddy Bears growl in the same accent as the old Max Hermann Teddy Bears have growled.

More information about the old Voice Maker families.

The next stop on our little sightseeing tour through the HERMANN-Coburg workrooms will be the Needlework Room.
---







Copyright © 1996, HERMANN-Spielwaren GmbH, Im Grund 9-11, D-96450 Coburg / Germany
Phone +49-9561-8590-0 FAX +49-9561-8590-30 Email info@hermann.de
URL: http://www.hermann.de